24/03/2019
NEWS - ANNOUNCEMENT
Fuel-Opt Technology: Secure your competitiveness Through Real Time Fuel Optimisation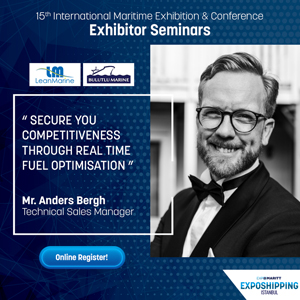 Fuel-Opt Technology: Secure your competitiveness Through Real Time Fuel Optimisation

We are organizing a seminar with one of our principals called Lean Marine, which is a developer of fuel saving system.

The seminar will take place on April 3rd at 14:00 local time. Technical Sales Manager Arnders Bergh will be presenting Fuel-Opt System. Lean Marine's FuelOpt technology is a unique control system that is installed as an addition to the existing traditional systems on-board. The technology optimizes a vessel's performance in real time.

The technology can be installed into any vessel during operation in just a few days and no time off-hire is required. Since 2012, Lean Marine has installed FuelOpt on nearly 100 vessels. Bergen-based chemical tanker owner/operators Rederiet Stenersen, have reaped fuel saving success from the FuelOpt system which was installed on across their entire fleet comprising tankers already efficient by design.

Date: 03.04.2019
Time: 14:00

Everyone can attend the event who is visiting exhibition.